Sign Up and Create a Profile
To use the platform's functionality, you need to register and create a profile.
---
Outcomes:
Learn how to sign by:

Email
Social media authentication

Learn how to update your profile
---
Introduction
To use any functionality of the platform, you have to first sign up and create a profile.
There are two methods you can use to sign up:
By email

By social media authentication
Note : Remember the method of your choice. You will need to log-in using the same method.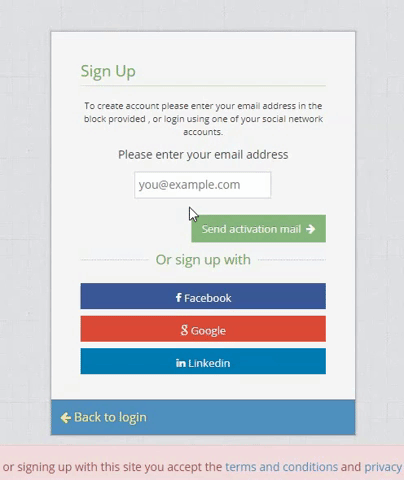 ---
How to sign up by email?
On the signup page, select [Send activation mail].
Click Send activation mail to receive an email and register on the platform.
---
You will receive an email with a link to continue the sign up process. Click the [Get Started] box to continue.
Click the Get Started link to continue signing up.
---
You will be redirected to a signup page where you will need to enter your personal information and password.
Do not forget to click [Create Account] once you are done.
Remember the credentials you entered especially your password.
---
How to sign up by social media authentication?
You can also opt to register via Facebook, Google + or LinkedIn.
Click the corresponding social media button below you want to associate with your profile.
---
How to update your profile?
After signing up and providing the information needed, you will need to update your profile.
You can access and update your profile by clicking the link on the email sent to you for verification, or you can log in to the platform and click Update profile after clicking your name on the upper right side of the page.
Click Update profile to edit the info in your profile.
---
Do the necessary changes. Once you are done, hit "Save" at the bottom of the page.
---
Congratulations on your newly made profile!
Get started by:
Was this article helpful?
That's Great!
Thank you for your feedback
Sorry! We couldn't be helpful
Thank you for your feedback
Feedback sent
We appreciate your effort and will try to fix the article